What is Email Marketing?
Essentially email marketing is sending regular email newsletters to a list of subscribers with intent to build a relationship, usually for commercial purposes.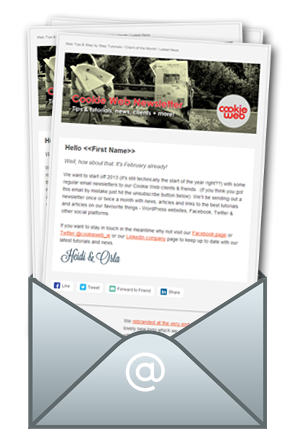 Despite social media being darling of online marketers and the rest of us (lets face it – it's fun and addictive) email marketing still offers the best return on investment across all marketing streams. Essentially permission based email is the preferred way (by a long shot) by which consumers like to be contacted. I don't really want to bamboozle you with citations, facts and figures so I've included some excellent links for further reading at the end of this post should you wish to read up some more on why you should be including email marketing as part of your online strategy.
So you want to know more about Email Marketing. Lets go through some of the terminology…
Glossary of Terms
Email newsletters are essentially just emails. Some of them are quite fancy with nice layouts and graphics and images. These types are called HTML emails. Other email newsletters are just plain text, just like the ordinary emails with no images. Here is an example of a HTML email newsletter that Cookie Web recently created in and emailed to our subscribers.
Subscribers are the people who have you given you their email addresses and the permission for you to email them. You may have collected these emails from existing customers or from people who have used your services. Or perhaps you have given a talk and asked people to leave their email address so you can tell them when a new product will be available.
Database of Subscribers: A database is the facility that holds the list of your subscribers and allows you to add additional information to your list such as: first and second name, company, telephone, address. Often though just email and a full name is all you need to get started. This "database" may be in the form of an Excel spreadsheet that you have created or you might be using some software such MailChimp or Vertical Response (more about the software below).
Sign Up Form: This is small form usually on your website somewhere that allows people to enter their email address and sometimes their name. Once they click submit the email is sent to the website owner or (if configured) automatically added the subscriber database.
Opt in / Permission: People must opt in to receive your emails. If people give you their email addresses through the sign up form described above then the permission is implicit. If people check the box on the contact form on your website / online shop that they would like to receive updates then this is also permission. Same as signing up for news on a piece of paper at your market stall. Essentially if people give you their email address in anyway knowing that they will receive emails from you. The important things is giving them the ability to unsubscribe at anytime. Read more about it on the Irish Data Protection website (scroll down to electronic email).
Unsubscribe: It's important to understand this term as it's vital that your subscribers can unsubscribe themselves at any time. Essentially every email you send must include an unsubscribe link or button that allows people to easily remove themselves/email (unsubscribe) from your list. You may not email them again unless they give you their permission. See Data Protection website (scroll down to electronic email).
Email Spam refers to unsolicited emails. Nobody likes spam. If someone has asked you to remove their email from your list and you continue to email them then this deemed to be illegal in Ireland and you maybe fined €1000s.
Email Marketing Software is specially designed to send out lots of emails to subscriber lists. You can manage different lists, create HTML emails easily and automatically manage unsubscribes. We highly recommend you use software for your email marketing no matter how small your list is. See the bottom of the post for more info and recommendations on which software recommend.
Open Rates: One of many measurements / statistics – this one that refer to how many people opened your email (i.e. open up the email in their email client). Don't expect huge figures here – a great open rate is 30% or higher.
Click Throughs: Another measurement that measures how many and which links were clicked in your email. Analyse these stats to see which content is popular – it might influence what you put in your next email.
But I'm on Facebook! Why do I need Email?
There is no social media versus email marketing. Both do different things really well. Social Media is about being involved in or creating conversations, it's in the moment and so can be quite transient – this guy calls says it's like a river which is a great analogy. Email Marketing on the other hand is about pushing or distributing a targeted (and longer) message to people that have signed up for your KoolAid so to speak!
So I should have an Email Marketing Plan – What should I write about?
If you've got customers or clients then you should consider having an email marketing strategy. The obvious businesses might include: Business Coach (weekly/monthly frequency), Hotels (monthly), Online Shops (monthly) but also consider it if you have a B&B (seasonal news, local festivals coming up) or landscape gardening (seasonal to do list, garden tips)  or your a graphic designer (a highly graphical newsletter of your favourite new logos or world trends).  Use your imagination and try to put yourself in your customers shoes – what kinds of things would I like to hear about and how regularly would I like to have an email in my inbox from a particular kind of business.
General Rules of Email Marketing
Don't get all salesy! Your subscribers don't want a page of screaming "BUY IT ALL NOW" messages. If you're a shop certainly highlight your products or sale items but keep it short & sweet. Your focus should be on informing – offering valuable advice and content.
Hook in your blog – if you have a longer piece of writing consider publishing it on your blog and then including an excerpt on your email newsletter that links to the blog post.
Send it out consistently – either once a week or once a month or 4 times a year or whatever works for you just keep it consistent. After sometime review it and increase or decrease the frequency.
Keep it short – in general people are not really interested in reading long emails from businesses. Use your headings, keep the paragraphs nice and short. If you want to elaborate link  to a blog post on your website. Generally 3 – 5 items is enough for people to digest. And always use headings! Just to reiterate – use headings to divide your information into bite sized pieces so people can scan the email quickly for something that catches their eye.
Professional Look & Feel – your HTML email should use a consistent, professional looking template – use the same header graphic for instance that contains your business name / logo or even a pic of you. Do consider getting this professionally designed.
Always Include:
Contact Details – most email marketing software will include your address and details at the bottom but feel free to ask people to call you or email you within the content.
Social Media – Include links to your Facebook page, Twitter account, LinkedIn profile, Website. Encourage people to visit your social media pages and follow / subscribe to your updates there.
Social Sharing – most email clients allow you to include the links that people can use to share your newsletter. This means that a public version of your newsletter maybe shared via Facebook (like or share) or Twitter or Linkedin or forward/email to a friend – or which ever social share buttons you choose to use.
Unsubscribe Button – email marketing software will include this as standard in the footer of all emails that are sent out. It's important! Don't delete it. If you are doing your own email make sure you tell people that they can unsubscribe by emailing you and asking you to remove their name from the list.
What Tools do I need?
Email Marketing Software
We recommend that you get yourself email marketing software.
store email addresses in a database (with the ability to add additional information such as full name, company, etc.)
manage different lists of subscribers – so if you want to divide your subscribers into different categories – for example: existing customers / potentials
create HTML emails (with graphics and photos) quite easily
send email to your list of subscribers
check the stats – for example: how many people opened your emails, which emails don't exist anymore, which links where clicked.
allow your subscribers to opt out / unsubscribe easily from your list – proper management of this is essential for various legal reasons (see below) and email marketing software manages this for you with a nifty unsubscribe button at the bottom of each email you send that allows people to unsubscribe quickly and easily.
The ones we recommend are all website based so you just sign up for an account and away you go. We will do a post next week on the basics of setting up an account with MailChimp and a video on how to send an email newsletter.
We use, recommend and love MailChimp. Other software includes: Aweber, Vertical Response and Constant Contact. Most are free up to a certain number of subscribers in your list (MailChimp is up to 2000).
Sign Up Form
Include a sign up form on your website so that visitors can subscribe to your email newsletters. You can use a plugin to do that or copy and paste the code provided by your email marketing software. And don't forget to get a pen and paper out and ask for people to opt in by writing their email addresses down – could be your market stall, your event stand or a networking group.
Cookie Web Email Newsletter! Are you signed up??
You'll receive great tips and tutorials for your website and social presences, techie news, client highlights and more. Frequency is about 1 or 2 times  a month.
We would love to hear from you! Please fill out this form and we will get in touch with you shortly.
Educate Yourself Further on Email Marketing…
Watch – video on email marketing and social media.
Article – Why do email marketing? by Mark Brownlow
Report – Irish Institute of Marketing 2012/13 Email Marketing Report
And of course we're always here to answer any questions you might have on getting started with your own email newsletter campaigns. Give Orla or Heidi a shout…