Although tucked away in Castlepollard, County Westmeath, ladies trek from all over to visit Trinity Boutique which stocks stunning dresses and occasion wear from international designers like Frank Usher, Quintesse, Claudia Stevens and Gina Bacconi. Alongside their collection of designer dresses Trinity have a gorgeous selection of bags, shrugs, shawls and gloves and other accessories. Owner, Nancy Gilsenan wanted a website that advertised their location and clothing collections but also needed an online shop for customers to buy handbags and other accessories that might not require a physical fitting. Check out their beautiful new shop at www.trinityboutique.net.
Impressed with Presta
Cookie Web were delighted to have opportunity to try out a new ecommerce solution that we'd been keeping our eye on. Prestashop is an open source (our favourite!) ecommerce solution that suits us very well. It's free to download, has a thriving community of developers and is quick and easy to deploy. All of these things are very important but being Cookie Web we  needed the ability to create something beautiful as well. Creating a gorgeous and unique template in Prestashop is straightforward and enjoyable (nothing more frustrating to a developer than flailing around in poorly executed software). As with most open source software there is room for improvement and we have recommended several to the Presta team. For instance the necessity for a very plain, sandbox style template as their default offering is a little over blown. But all in all we're big fans and we'll be launching another ecommerce shop developed in Presta in the coming weeks.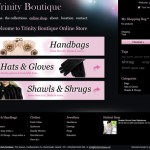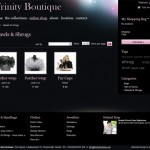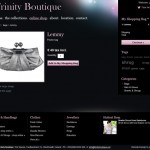 One Website – Two Solutions
The main website is developed with WordPress with a link to the Presta Shop within subdomin – you'll see though that both website and shop are site sit together seamlessly. While some clients baulk at having two separate logins – one to update their main website and another to administer their shop we recommend it. Better to have to separate pieces of software that do an excellent niche job rather than a bloated software solution that does everything you could ever imagine (and a lot more than you would ever want) and is a big pain to upgrade and maintain.